Until We Meet Again Audiobook
Audiobook Player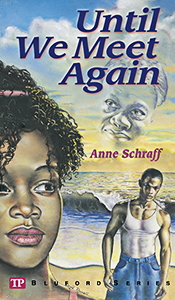 Author: Anne Schraff
Length: 2 hours 41 minutes
Lexile® Level: 740L
Sequel to A Matter of Trust, this story continues the tale of the Wills family. Darcy learns that Hakeem, her first boyfriend, is moving out of the state. Then her grandmother's health declines and a mysterious new person comes into her life.

Download or Buy the Book
iPods, iPhones, and iTunes Other MP3 Players Buy
Note You can download chapters separately below.
Terms of Use
Bluford Series audiobooks are provided by Townsend Press as a free resource to educators and students. None of the Bluford Series audiobooks may be used for any purpose other than personal or educational use. Therefore, selling, modifying or distributing these files, other than for personal or educational purposes, is prohibited without prior written permission. Questions about policies regarding Townsend Press audiobooks should be sent to permissions@townsendpress.com.
---