The Test Audiobook
Audiobook Player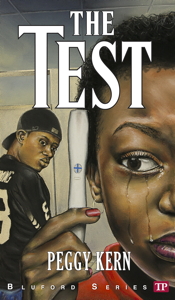 Author: Peggy Kern
Length: 2 hours 38 minutes
Lexile® Level: 570L
The Test follows the story of Liselle Mason, a former Bluford student who first appeared in Until We Meet Again. Liselle Mason is in trouble. For weeks, she ignored the changes in her body and tried to forget her brief relationship with Oscar Price, her moody classmate at Bluford High. But when Liselle's clothes stop fitting, and her brother notices her growing belly, she panics. A pregnancy test confirms her biggest fears. Unwilling to admit the truth, Liselle suddenly faces a world with no easy answers. Where will she turn? Who will she tell? What will she do?

Download or Buy the Book
iPods, iPhones, and iTunes Other MP3 Players Buy
Note You can download chapters separately below.
Terms of Use
Bluford Series audiobooks are provided by Townsend Press as a free resource to educators and students. None of the Bluford Series audiobooks may be used for any purpose other than personal or educational use. Therefore, selling, modifying or distributing these files, other than for personal or educational purposes, is prohibited without prior written permission. Questions about policies regarding Townsend Press audiobooks should be sent to permissions@townsendpress.com.
---