The Chosen Audiobook
Audiobook Player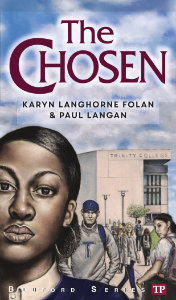 Author: Karyn Langhorne Folan and Paul Langan
Length: 2 hours 44 minutes
Lexile® Level: 670L
Darcy Wills feels the pressure. Her best friend, Tarah Carson, has grown distant and hostile since the start of the school year. And a medical crisis in Darcy's family has stress boiling over at home. When surprising news forces Darcy to look at the future beyond Bluford High, she realizes huge decisions are looming. Unsure what to do but unable to avoid what's coming, Darcy has no easy options. Her choices will cut both ways. Some doors will open, but others may close forever.
Download or Buy the Book
iPods, iPhones, and iTunes Other MP3 Players Buy
Note You can download chapters separately below.
Terms of Use
Bluford Series audiobooks are provided by Townsend Press as a free resource to educators and students. None of the Bluford Series audiobooks may be used for any purpose other than personal or educational use. Therefore, selling, modifying or distributing these files, other than for personal or educational purposes, is prohibited without prior written permission. Questions about policies regarding Townsend Press audiobooks should be sent to permissions@townsendpress.com.
---