Survivor Audiobook
Audiobook Player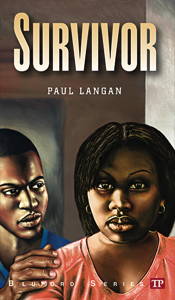 Author: Paul Langan
Length: 2 hours 41 minutes
Lexile® Level: 700L
Tarah Carson has hidden the secret for years. No one—not her mother, her friends at Bluford High, or even her boyfriend, Cooper Hodden—knows what her uncle did to her years ago. Tarah hoped to keep it that way. But an upcoming reunion is forcing Tarah's past into the present. And Uncle Rudy, the man who scarred her for life, is returning. Haunted by memories, Tarah plans to avoid him at all costs. But when her decision threatens to cause even more suffering in her family, she must face her past and biggest fear—alone.

Download or Buy the Book
iPods, iPhones, and iTunes Other MP3 Players Buy
Note You can download chapters separately below.
Terms of Use
Bluford Series audiobooks are provided by Townsend Press as a free resource to educators and students. None of the Bluford Series audiobooks may be used for any purpose other than personal or educational use. Therefore, selling, modifying or distributing these files, other than for personal or educational purposes, is prohibited without prior written permission. Questions about policies regarding Townsend Press audiobooks should be sent to permissions@townsendpress.com.
---