Promises To Keep Audiobook
Audiobook Player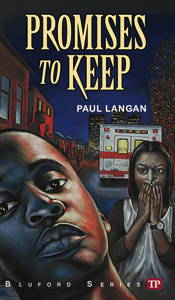 Author: Paul Langan
Length: 2 hours 47 minutes
Lexile® Level: 600L
No one likes Tyray Hobbs. Once a feared bully, he's become an outcast. At Bluford High, his peers taunt him for how he treated them. At home, his parents punish him for the trouble he's caused. Unable to escape his reputation or his past, Tyray is desperate. And when an unlikely friendship develops, he clings to it like a lifeline. Now that connection is threatened, and Tyray faces his toughest decision yet. Will his next move lead him to ruin or redemption—or both?

Download or Buy the Book
iPods, iPhones, and iTunes Other MP3 Players Buy
Note You can download chapters separately below.
Terms of Use
Bluford Series audiobooks are provided by Townsend Press as a free resource to educators and students. None of the Bluford Series audiobooks may be used for any purpose other than personal or educational use. Therefore, selling, modifying or distributing these files, other than for personal or educational purposes, is prohibited without prior written permission. Questions about policies regarding Townsend Press audiobooks should be sent to permissions@townsendpress.com.
---