Pretty Ugly Audiobook
Audiobook Player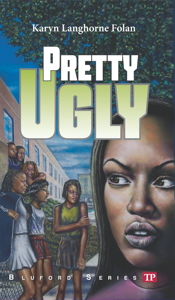 Author: Karyn Langhorne Folan
Length: 3 hours 10 minutes
Lexile® Level: 630L
This book follows Jamee Wills, the little sister of Darcy Wills, who has appeared in many titles including Lost and Found, A Matter of Trust, and Until We Meet Again. A freshman at Bluford High, Jamee never expected Vanessa Pierce and her friends to go this far. The trouble starts at cheerleading practice when Vanessa begins teasing Angel McCallister, a shy new girl at school. When the insults turn nasty, Jamee tried to stop them. She wins Angel's friendship but makes many enemies. Now Jamee is a target, and someone is texting lies and pictures of her all over Bluford. Unwilling to tell her family or snitch on her fellow cheerleaders, Jamee is cornered. Will her next move solve her problems--or make them worse?

Download or Buy the Book
iPods, iPhones, and iTunes Other MP3 Players Buy
Note You can download chapters separately below.
Terms of Use
Bluford Series audiobooks are provided by Townsend Press as a free resource to educators and students. None of the Bluford Series audiobooks may be used for any purpose other than personal or educational use. Therefore, selling, modifying or distributing these files, other than for personal or educational purposes, is prohibited without prior written permission. Questions about policies regarding Townsend Press audiobooks should be sent to permissions@townsendpress.com.
---