No Way Out Audiobook
Audiobook Player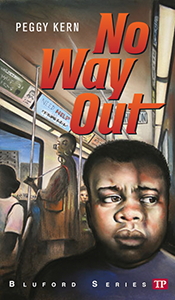 Author: Peggy Kern
Length: 2 hours 38 minutes
Lexile® Level: 580L
Bluford High freshman Harold Davis is trapped. Medical bills for his sick grandmother are piling up, and a social worker has threatened to put him in a foster home. Desperate for money, he reluctantly agrees to work for Londell James, a neighborhood drug dealer. The choice leads him into a world of dangerous streets where no one is safe. Will Harold escape the violence that surrounds him, or will he become its next victim?

Download or Buy the Book
iPods, iPhones, and iTunes Other MP3 Players Buy
Note You can download chapters separately below.
Terms of Use
Bluford Series audiobooks are provided by Townsend Press as a free resource to educators and students. None of the Bluford Series audiobooks may be used for any purpose other than personal or educational use. Therefore, selling, modifying or distributing these files, other than for personal or educational purposes, is prohibited without prior written permission. Questions about policies regarding Townsend Press audiobooks should be sent to permissions@townsendpress.com.
---