Girls Like Me Audiobook
Audiobook Player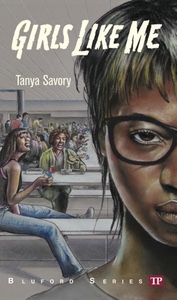 Author: Tanya Savory
Length: not released
Lexile® Level: 660L
Angel McAllister?s worst nightmare has come true. Her best friend, Sharice Bell, has discovered her most intimate secret. And a new enemy, LaDonna Burns, is on the warpath. Gossip and rumors are spreading through school like wildfire, and Angel?s classmates are turning on her. Can she bury the secret and put out the flames? Or will Angel face the truth?and its life-changing consequences?
Download or Buy the Book
iPods, iPhones, and iTunes Other MP3 Players Buy
Note You can download chapters separately below.
Terms of Use
Bluford Series audiobooks are provided by Townsend Press as a free resource to educators and students. None of the Bluford Series audiobooks may be used for any purpose other than personal or educational use. Therefore, selling, modifying or distributing these files, other than for personal or educational purposes, is prohibited without prior written permission. Questions about policies regarding Townsend Press audiobooks should be sent to permissions@townsendpress.com.
---